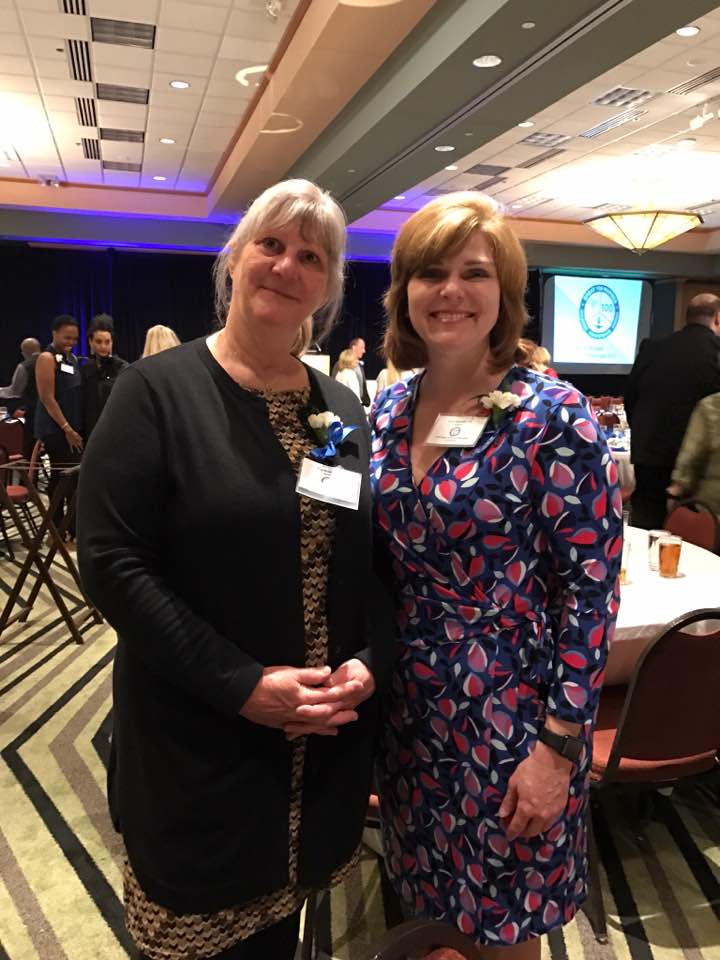 Tina Benton, BSN, RN, Program Director of Antenatal & Neonatal Guidelines, Education and Learning System (ANGELS) in the Department of Obstetrics and Gynecology at the University of Arkansas for Medical Sciences (UAMS) and the Clinical Division Director and Operations Manager of the Center for Distance Health; and Sarah Rhoads, PhD, DNP, APRN, Primary Investigator and Program Director for the South Central Telehealth Resource Center, Education Director for the Center for Distance Health and Associate Professor at UAMS, were honored by the Great 100 Nurses Foundation at an event held at the Embassy Suites, Little Rock, on April 11.
Benton's desire for quality care for all human beings began over 30 years ago when she gave birth to a daughter with special needs.  The challenges she faced along with the desire to learn inspired her to pursue a nursing degree, which ultimately led to a 20 year career providing direct patient care to Arkansas' high-risk pregnant women.  Caring for these women and their infants enriched her mission to improve quality and access of care to all high-risk pregnant women regardless of the barriers.  Her compassion and concern awarded her the opportunity to be integral part of a group which founded ANGELS, a women's health initiative that revolutionized the resources available to rural women facing high-risk pregnancies.  This Medicaid-funded, statewide telemedicine program provides high-risk obstetrical consultation to rural women through interactive video available at their hometown hospitals. Benton was instrumental in bringing ANGELS to life, which serves at-risk women at 30 telemedicine sites across Arkansas. In addition to high-risk obstetrics, Benton has become an integral part of the Center for Distance Health which has modeled on the ANGELS program for telemedicine care. Through the Center for Distance Health, Tina has created telemedical clinical interventions in neurology, psychiatry, adult sickle cell disease, HIV, opthalmology, trauma, language interpretation, prison health, and patient/provider education, all of which are actively benefiting Arkansans throughout the state.
Rhoads is a telemedicine/telehealth researcher and educator, emphasizing the human impact of technologies on nursing roles and patient-centered care. She has expertise in patient-centered care and educational materials as well as performance improvement in continuing education. Rhoads has a passion for improving maternal, neonatal and pediatric care in rural areas. She said, "It was such an honor to be part of this inaugural group of nurses. There was so much positive energy in the room, and it was wonderful to have so many nurses recognized for their contributions."
Benton and Rhoads were recognized based on their concern for humanity, contribution to the profession of Nursing and their mentoring of others. Click here to learn more about the Great 100 Nurses Foundation.