Mississippi Governor Tate Reeves kicked off the Mississippi Telehealth Association (MTA) 2020 Annual Conference on Monday, February 24th by describing much of Mississippi living "small town ways" as a blanket description of many state residents.  Regarding the advancement of telehealth, the governor used this "small town ways" theme as a pitch to bridge the gap of access to care. To him, losing access to care is the same as losing this way of life. You can see how this sentiment reverberates throughout the SCTRC region. Beyond Jackson, Little Rock, and Nashville, there are numerous small towns that are desperate for healthcare and many are designated by the Health Resources and Services Association (HRSA) as Medically Underserved Areas (MUAs) and/or Health Professional Shortage Areas (HPSAs) or as one conference speaker put it:  "medical deserts."
A major focal point of the MTA for 2020 is school-based telehealth, which was showcased by panel of professionals at discussing just that. "Providing telehealth to students, teachers and parents in the school-based setting is a perfect solution for many of our rural and urban communities alike", states Ryan Kelly, executive director for the Mississippi Telehealth Association.  "With students receiving care in the school, it will provide faster treatment, opportunities for mental health coverage, higher presenteeism, and less pressure on parents who need to stay at work if possible."
Shannon Fryery, with the North Mississippi Health Association, spoke of great successes she's having with telehealth, while also speaking to the quick and vast emergence of technology and corporate involvement as a window into the future of healthcare. With this technology, patient access is trending upward and quickly developing in a number of areas. CEO of the American Telemedicine Association, Ann Mond Johnson, Keynote Speaker on the second day of the conference echoed Fryery's presentation using Direct to Consumer (DTC) healthcare services as an example.  Mond suggested DTC services were a quick and deeply impacting "disruption" to healthcare just as Uber had been to taxi services worldwide. To further this point, one of Mond's slides were titled, "The exam room of the future will be your home."
Representatives from the University of Mississippi Medical Center (UMMC) presented the current state of telehealth through the lens of education and curriculum. Early players in the telehealth game, UMMC presented on years of experience and growth, teaching future clinicians the benefit of the ever emerging and evolving field of digital health.
There were presentations on policy updates, new and existing billing codes, broadband needs and developments along with cyber security and the future of network infrastructure (whew!)… the topics tackled during the two day conference where hardy, robust and pertinent.
Working for a federal funded program doesn't allow me to promote particular vendors, services, programs, etc. But one of the great things about conferences like the MTA 2020 is being able to talk shop with individuals all across the telehealth spectrum: public health, rural health, providers, clients, vendors…. Basically anyone involved or interested in digital health. This is essential because of the diverse amount of information one can glean from the many facets of telemedicine: HIPAA compliance, broadband essentials, program implementation – these are things you can learn from a book or Google, but the human aspect of it, the interaction, is truer to life. Public sector or private sector. Small town ways or big city life. We're all pushing telehealth for the greater good and for better health.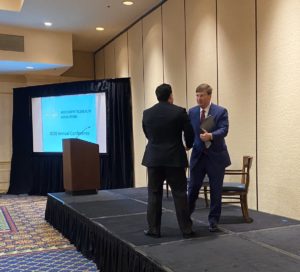 MTA executive director, Ryan Kelly, with Governor Reeves