I'm sitting in Winnipeg, Manitoba on a mini-vacation watching the snowfall wondering what the weather is like in the South Central region. Sunny and 46 degrees in Nashville. Partly cloudy and 52 in Little Rock. Sunny and 54 in Jackson. Thinking of the South Central region a nation away in addition to my recent travels to Philadelphia and Chicago… it's a great thing to be able to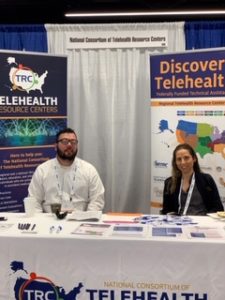 communicate with all walks of life from all parts of the geographical landscape. Each region with its own personality, people, and culture. In many ways, several parts of Canada are rural and in need of telehealth like the South Central region. It's a great thing to talk to people from these different areas about telehealth: either those that are interested and want more, or those who have implemented a program and sing its praises, or (my personal favorite) talking to someone who doesn't know about all the benefits telehealth has to offer. To see their eyes light up when I inform them that Remote Patient Monitoring IS telehealth, or what the Telehealth Resource Centers have to offer (i.e. education, technical assistance, etc.) is FREE.
The South Central Region may be geographically outlined by Arkansas, Mississippi, and Tennessee, but our reach has no outline or boundaries. At the 2019 American Public Health Association Annual Meeting and Expo in Philadelphia, I was able to connect with representatives from East Tennessee State University, Jackson State University, and Appalachian State University (all geographically located in the South Central region) among many, many oth
ers.  We are part of a National Consortium.
In a recent HealthLeaders article by Mandy Roth, she postulated that most of the public simply isn't aware of telehealth as an option, but "positive recommendations from others led 65% of telehealth users to try the service." So that's what we're out here doing – positive recommendations… making ourselves known… and making ourselves available.
We're here.  Use us!
…and the best way to connect is to learn the culture. The best way to learn is through experience.  So, in these different regions and different cultures…