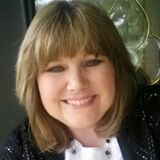 At the South Central Telehealth Resource Center, we are thrilled to introduce a new staff member, Kimberly McKee. Our new go-getter has degrees in English, Writing and Mass Communications. She has a Master of Science in Instructional Technologies with an Emphasis in Distance Education, and several hours in the Master of Arts in Teaching program. She has experience in curriculum development, online educational system management, and instructional design. She's quite close to her goal of becoming a CAPM through the Project Management Institute.
Kimberly is not only highly educated and experienced in her field, her real passion is working with people and telling their stories. She immediately found a home in our team due to her desire to make a positive impact for anyone over a distance. She believes everyone deserves the opportunity to receive an education and quality healthcare regardless of where they live.
Blessed with three children and two grandchildren, she enjoys spending her weekends with friends and family, attending rock concerts, creating pallet art masterpieces and riding motorcycles. Kimberly will be a prominent face of SCTRC outreach and we look forward to introducing her to you soon.