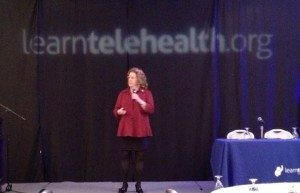 A theme emerged during this year's South Central Telehealth Forum: COLLABORATION. I heard it over and over in the exhibit hall, advisory council meeting, networking event, and educational sessions. Telehealth veterans and newcomers alike said we are too fragmented as an industry and that to grow, we must have everyone at the table talking.
So what does this mean? After everyone left the conference, and took a nice long nap, I hope they will go back to their organizations and share the message of collaboration. Our keynote speaker, Nina Antoniotti, PhD urged attendees to build our programs and bill for our services. What if the payers don't pay? COLLABORATE with them. Take your case to the payers. Develop contract programs. Make sure everyone is at the table when you plan and work together to topple barriers.
A representative of Mississippi Medicaid underscored this with a wonderful impromptu address to the forum attendees. Her comments included a plea to those providing telemedicine to contact their Medicaid office and to "…not assume that Medicaid is against telemedicine." She stated that Medicaid wants to support innovative programs to improve people's health.
Seeking inspiration? Click the links below to view the new patient vignettes debuted at the conference:
Telemedicine in Pediatrics – Fayetteville, AR

Adult and Geriatric Telemedicine – Richton, MS
Adult and Geriatric Telemedicine – Forest, MS
Seeking inspiration? Click the links below to view these patient vignettes.