Walking into any large group for the first time can be intimidating as well as exciting – different faces, different personalities, different ideas.  And as time goes on, you start to see the deep connections between the group… you start to see where you might have a hopeful future in this group.  This is me walking into the 2019 National Consortium of Telehealth Resource Centers Spring Meeting at Heifer International's Heifer Village in Little Rock, AR.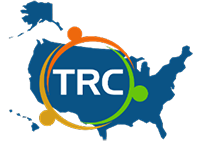 In my 15-year career as a public health professional, I've worked in a variety of fields (social services, treatment/intervention, prevention, program development), and I try to use all those lenses of experience to achieve the mission of my employer.  Being recently employed at the UAMS South Central Telehealth Resource Center, I'm waking up to the popularly growing, yet somewhat secret field of telehealth. Not secret in the proprietary sense, but secret in the sense that the rest of the world is waking up to it, too.  Or, as Kris Erps, Administrative Director for the Southwest Telehealth Resource Center, says: "It's the best kept secret we're trying to tell everyone about."
Simply on the basis of convenience for providers, health care professionals, and patients, telehealth has proven to be an easy choice for many.  On the basis of reach, telehealth and telemedicine has revealed itself to be a deeply impacting factor, especially for those in rural areas.  Ten years ago, Arkansas was first (or the worst) in the nation for strokes.  Because of the mobilization of public health professionals and their many partners, Arkansas has moved up five positions and is now sixth in the nation – a great improvement with much room for continued success.  A large factor in this has been the creation, support, and implementation of the telemedicine stroke program AR SAVES. This program began in only a few hospitals, and now the program is in almost every emergency department in the state.
The fact is, "healthcare is a truly antiquated industry", said UAMS Chancellor, Dr. Cam Patterson, in a recent presentation on the future of digital health. In the same vein, Roy Kitchen, Associate Administrator for Patient Care with the University of Arkansas for Medical Sciences (UAMS) Institute for Digital Health and Innovation tells me that "when you look at the future of medicine, it's all telemedicine."
The journey thus far has been short, but it's been eye-opening.  I'm excited to be a part of the South Central Telehealth Resource Center and the TRC Consortium because I can see the future in
what the field of telemedicine can achieve.  I'm excited for the prospects in healthcare and the direction of technology benefiting the welfare of all.  I look forward to walking forward with all of you.
*Final thoughts: I will say, one of the first nuances I recognized in the world of telehealth is the hefty amount of initials and acronyms used… TRC, NCTRC, SCTRC, NRTRC, NETRC, CTRC, STRC, GPTRAC, HRSA, ATA, AAFP NACHC, NOSORH, NRHA, COE, USAC, OAT, SEARCH, HIMSS, ANGELS, ARSAVES… I definitely hope for grace and a learning curve in this area 😉