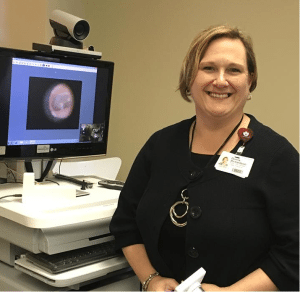 Donna is a Nurse Project Manager at UAMS in the Center for Distance Health.
Her work with telehealth and telemedicine began in the ANGELS Call Center with programs such as telephone triage for high-risk pregnancy. She later became the Nurse Manager of the Triage Call Center, starting programs such as AR SAVES (telestroke) and the Physicians Call Center, which connects referring physicians to all subspecialties at UAMS for phone consults and hospital transfers.
Currently, Donna manages the Adult Sickle Cell Clinical Program, home monitoring/mHealth applications and the prison/jail telemedicine programs.
She is also the expert when it comes to training others on telehealth and telemedicine clinical equipment. Donna has traveled the state teaching healthcare professionals how to use the technology.
When new programs are being developed, she assists with concept meetings, research and equipment demonstrations.
Donna has been with UAMS for over 20 years, and she has been a valued member of the CDH team for 11 of those years. Her work has positively impacted the lives of Arkansans.