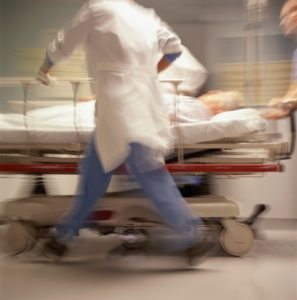 As a new member of the SCTRC team, I try to spend a few minutes each day walking the halls and asking questions about Telehealth programs. While learning about programs, I have also been inspired by people who are passionate about making quality, life-changing healthcare a reality for the rural areas of the state. These Telemedicine leaders are dedicated to making a difference every day. I am very excited to be a part of their team. This post shares information that I learned during one of my walks. I would like to thank Terri Imus for speaking to me about her program and reviewing this post for accuracy. Please share this information so that others can be "in the know" about the impact of Telemedicine and the quality healthcare provided in the state of Arkansas during a trauma situation. ~ Kimberly K. McKee
_____________________________________________________________________________________________________________
A 2008 study conducted by the American College of Emergency Physicians cited Arkansas as having the worst emergency care system in the U.S. The same report noted that injury was the number one killer of Arkansans between the ages of 1 and 44. Arkansas was in desperate need of an improvement plan.
In 2009, Governor Mike Beebe and the Arkansas Legislature signed the Trauma System Act. The Arkansas Department of Health (ADH) and six subcommittees, made up of professionals from across the state, studied the problem and identified a solution – the Arkansas Trauma System.
Arkansas Trauma System
To better serve Arkansans, a trauma rating system was developed that identified the level of trauma care available at participating medical facilities. Ratings range from Level I (the highest) to Level IV. Currently, 79 hospitals (including two in Missouri, two in Tennessee and one in Oklahoma) are part of the trauma network. Coverage spans the state and ensures that Arkansans have access to trauma care aligned with specific injury types.  Arkansas currently has two Level I trauma centers: the University of Arkansas for Medical Sciences (UAMS), which serves adults, and the Arkansas Children's Hospital (ACH), which serves children.
Trauma Image Repository (TIR)
To further enhance the trauma system, ADH contracted with UAMS to design and implement the Trauma Image Repository (TIR). Using a proven program model developed for the Telestroke program, AR SAVES, the TIR became functional in July, 2011. The repository enables medical facilities within the Arkansas Trauma System to access images from radiological procedures completed on trauma patients. Four steps are used to complete the process: (1) radiological images are completed at a medical facility; (2) images are sent via Virtual Private Network (VPN) to a centrally located server; (3) a band number is assigned in collaboration with the Arkansas Trauma Communications Center (ATCC); and (4) images are assigned to the location where the patient will receive specialized trauma care. Images are available at the receiving medical facility for a 24-hour window. The TIR saves time and improves outcomes by allowing doctors to assess images and assemble care teams while a patient is being transported to the medical facility best equipped to handle the injury.  
Patient Confidentiality
Patient confidentiality is also managed through repository guidelines. To access images within the TIR, medical facilities sign a participant agreement, and personnel are registered by a unique email address affiliated with the facility where images are being accessed. UAMS monitors the TIR for timely transmission of images and continually performs an auditing process.
Continued Improvement
Every hospital viewing system is different. An upgrade to the system allows images to be sent to the Picture Archiving and Communication Systems (PACS) in every Level I, II and, if requested, Level III trauma center. An audit system tracks all users. When images are sent to a PACS system, the receiving medical facility tracks activity within their own system. All medical facilities comply with HIPAA guidelines.
Learn More
Every day, the Trauma Image Repository helps to improve outcomes. As of April, 2015, 14,666 patients had been served and 5,256,550 images had been transmitted. The TIR provides life-changing technology to those who need it, when they need it most.
To learn more, click the links below: