2012 was a huge year for telehealth in the south central region. Here at LearnTelehealth.org we had a great time developing telehealth training, resources, videos and, of course, making face-to-face visits to sites in our region and beyond. Remember, check here first if you're wanting to learn more about telehealth or are needing ideas for ways to utilize existing equipment. Here's a list of resources from the past year. We have a big 2013 planned so stay connected. Happy Holidays.
First off, check the newest blog post about mHealth. Our own Matthew Hewes attended the mHealth conference in DC a few weeks ago and files this report.
Connect with other sites in Arkansas
If your site is in Arkansas we developed a one-stop shop for telehealth. Our 5-step Arkansas eLink section features everything from learning modules and videos to train you on the telehealth carts (and peripherals!). Next is a huge list of sites on the same network for you to connect and collaborate. Following that is a list of clinical programs available. If you'd like to see your program in our list just send Wendy Ross an email at wross2@uams.edu. Last but not least is a list of educational programs available from your interactive unit.
Telehealth training resources
We Got Game! An interactive learning game to help you learn more about telehealth. See how your score compares with others.
Telehealth Impact Calculator – Is telehealth worth it? Can it help me save time and money? Yes! And Yes! We designed this tool to be applicable for the patient and the health care provider.  Enter in simple data and voila' you can instantly see how telehealth can save time and money.
Telehealth Courses – Our incredibly informative and effective telehealth courses. Not necessarily new for 2013 but we can't miss an opportunity to remind people how great they are.
New telehealth videos in 2012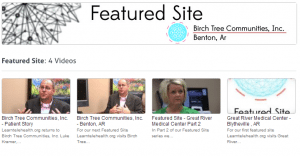 Our staffer, Brian Lee, developed a ton of great video resources in 2012. Here are just a few:
The Featured Site series – These stories introduce you to others, like you, who are making telehealth work at their sites.
:30 seconds with a Telehealth Expert series – A big focus was on building your program awareness. Three videos to learn how to maximize existing relationships and contacts to expand and improve your program. We also learned how to prepare patients for a telemedicine encounter.
Informative blog posts from 2012