Susan is a 57-year old cancer survivor who experienced weakening of her heart following her previous cancer treatments. She has been hospitalized frequently in recent years as she struggled to manage a complicated regimen of stricter diet and multiple medications.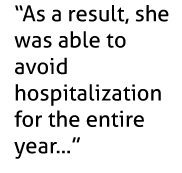 Susan was feeling understandably overwhelmed when she learned during a hospitalization last year she was qualified for a pilot project with BAPTIST HEALTH Home Health Network. The pilot combined a device that dispensed her medications (and reminded her to take them at the appropriate times) with a telehealth monitoring unit in her home. She agreed to enter the program but was very apprehensive about her ability to use the technology successfully.
The home health nurse who admitted Susan listened to her concerns and assured her she could learn to use the equipment and realize its benefits. She was receptive and gradually became comfortable with both the telemonitor and the medication dispenser. In addition to the in-home nursing visits, Susan received regular phone calls from the home health telehealth nurse monitoring her data which further increased her confidence in daily usage of the devices.
When she entered the program, Susan discovered there were many ways the technology supported changes in her behavior. For example, her family was notified by an automated call each time she missed a medication. When she gained weight, the change was captured by the monitor and her dietary habits were reviewed and discussed. Eventually, Susan realized the cause and effect of eating high-sodium food and increased fluid retention. She also realized the necessity of taking all her medications in a timely manner.
After four months, Susan was discharged from home health but kept her monitor and medication dispenser for a full year as part of the pilot project. As a result, she was able to avoid hospitalization for the entire year and recently enjoyed a celebration dinner with her family. She also elected to purchase some of the equipment and continues using it today. The combination of the devices and nursing professionals trained in chronic disease management helped Susan dramatically change her health status – and her life!
Greg Harrison is the Business Development Manager for Baptist Health Home Health Network.